100's Of Satisfied Clients Over Three Decades of Service.  Here's What Some Have To Say.

 
★★★★★
Easy to schedule an appointment. Friendly Staff. Great Customer Service.
Chris A., customer since 2018
★★★★★
Amber Diver is a tremendous asset to TYGF. She has all the attributes a firm needs to be successful when dealing with clients. She is knowledgeable of the products I inquire about and is patient as I run through the several scenarios of my insurance options. Whether it is about my home or auto - she is thorough in her explanations and detailed oriented as to what she needs to make sure I am getting exactly what I want/need out of my insurance. She is patient - she listens. She is professional - I have brought my children in to speak with her about car insurance - so they can develop a relationship. Most of all she is cordial - most pleasant, making my insurance experience not all about business, but a social chat as well. She is the standard I base my other professional relationships.
George, customer since 2009
★★★★★
You always sit down with us and listen to what we are looking for, then select a few choices for us select from that we are most comfortable.
Anita B., customer since 2016
★★★★★
Straight, honest, and loyal business practices.
Kadin J., customer since 2012
★★★★★
There is a person always answering the phone, that make you feel welcome. My agent Amber is prompt responding to my questions. I truly value a one to one communication with my agent, it feels like my unique needs are addressed when it comes to my insurance needs.
Maribel L., customer since 2020
★★★★★
"They are always there to answer my questions no matter how trivial they are . I appreciate the great customer service, thank you!"
Hugh C., customer since 2016
★★★★★
"The Young Group is always available and will answer and explain in detail any questions we may have. We always feel they have our best interest in mind."
Christopher B., customer since 2002
★★★★★
"Y'all are just the most helpful and caring people I have had the pleasure of knowing. Anytime we have a question or need something, y'all are always courteous and quick."
Melinda A., customer since 2013
★★★★★
"Amber is awesome but all of the employees at the Fuquay office always answers and respond very professionally! Amber always answers very promptly and I have referred quite a few people to Amber."
Christine P., customer since 2018
★★★★★
"Sonya is always very knowledgeable, kind, and quick to respond and assist will all my questions."
Satisfied Customer since 2020
★★★★★
"The group has always provided exceptional assistance with my needs for medical coverage in the seven years I've been a client. They explain the different benefits and information I need to serve me best. I am so grateful for finding them and I will continue to use their services. They are professional, respectful and truly wonderful people. Thank you!"
Sharon A., customer since 2014
★★★★★
"It is a pleasure to work with The Young Group as you all pull together to get the best coverage for me at good rates. Not all companies will do that. The couple of claims I have had over the years were promptly and fairly handled by very friendly and courteous investigators."
Sandra A., customer since 1999
★★★★★
"Every time I have had a question concerning my insurance coverage, The Young Group of Fuquay has immediately responded and answered my question to my satisfaction. Insurance can be confusing and difficult to understand some time and it is good to have well informed professionals such as the personnel at the Young Group of Fuquay on hand when you need them."
Ron C., customer since 2018
★★★★★
"Susan has been my savior dealing with a Geico claim. Over and above her call of duty!"
David, customer since 2003
★★★★★
"They are always very friendly and gets on top of things quick."
Robert M., customer since 2005
★★★★★
"Easy to contact if we have a question and we like the idea of having a local agent that we can talk to, not an automated phone response in another state."
Customer since 2020
★★★★★
"As always you handled my request for insurance certificates to be sent to some my customers that had requested them in a very timely manner. This is very important to me because often a payment is being held until they receive this information."
Tony, customer since 2012
★★★★★
"Fast responses. Amber is very knowledgeable."
Charles M., customer since 2018
★★★★★
"Every time I call and need something, it is taken care of immediately."
Shawn, customer since 2002
★★★★★
"Helped me through SS insurances"
Cathy J., customer since 2018
★★★★★
"I am always able to speak to my agent and she does everything she can to help me. In this time when there is such a lack of customer service it is a pleasure to deal with Sonya and her staff."
Jill D., customer since 2006
★★★★★
"Always friendly and great customer service. Very knowledgeable as well."
Customer since 2017
★★★★★
"So easy to work with. I feel like I have a personal connection as compared to my previous agency."
James B., customer since 2020
★★★★★
"Every time I call they are very helpful"
Michael G., customer since 2020
★★★★★
"Very straight and to the point. Quick and easy and they're the best around! Harris is the best!"
Customer since 2019
★★★★★
"Great customer service"
Glenn H., customer since 2018
★★★★★
"YOU ARE ALWAY QUICK WITH HELP AND RESPONSES"
Julie C., customer since 2019
★★★★★
"When I have a question you always give me an answer. Great people working there."
Customer since 1998
★★★★★
"You were informed, nice, reassuring, provided us excellent customer service, fixed other peoples mistakes, AND saved us money. In addition, it is nice to support a local family business."
Theresa T., customer since 2019
★★★★★
"Very helpful and and if not available at time, got back quickly. Good service."
Jon N., customer since 2018
★★★★★
I enjoy working with Amber , she is friendly and does a great job.
Gregory P., customer since 1994
★★★★★
We feel like family at The Young Group. They cover our businesses, vehicles and home but it's so much more than insurance. They know us as people and how we live and work to guide us in making the best decisions and with their recommendations.
Tracy W., customer since 2019
★★★★★
The Young Group made the process easy for us by coming out to meet us in our home. Service has always been professional and personal.
Customer since 2015
★★★★★
The team at TYGOF have handled our insurance needs for years and are fantastic to work with. Very proactive with communications and their focus on customer service is A++.
Duaine F., customer since 2020
★★★★★
It's great to have a local trusted independent agent. Amber has been great..!!
Gregory S., customer since 2019
★★★★★
I had a claim this summer with a broken glass on my truck it was replaced in 2 days that was great service. You have great service at a fair price. Thanks
James W., customer since 2019
★★★★★
Amber Diver has been amazing! She is very responsive, kind and attentive. I feel like I am in great hands with her.
Elizabeth E., customer since 2015
★★★★★
The Young Group is great. I've been with them so long , Sim and I should rename it the Old group . The most honest people I know . Great staff , great people . I highly recommend them . John Huff
John H., customer since 1995
★★★★★
You guys have nailed customer service! Thank you for all you do.
Customer since 2020
★★★★★
We love the Young Group because they work with us on our schedule plus, they treat us like family. That's important to us.
Lester D., customer since 2012
We Love Referrals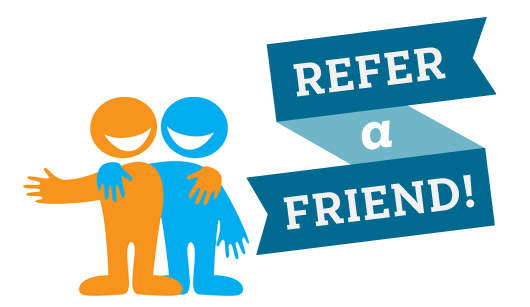 Here's How It Works:
Recommend The Young Group of Fuquay to your friend for an insurance quote and tell them to let us know that you sent them. (Don't worry, we'll ask too!)

We'll send you a $5 e-gift card JUST for referring them! (No purchase required.)

We'll enter your name into our monthly drawing to win our "A Night on the Town" Package!!

Watch your email and our Facebook page for the announcement of each month's winners!

Thank you in advance for your referrals! Please include Name, Line of Business (if applicable), and your friend's best method of contact.